An introduction to entree
Introduction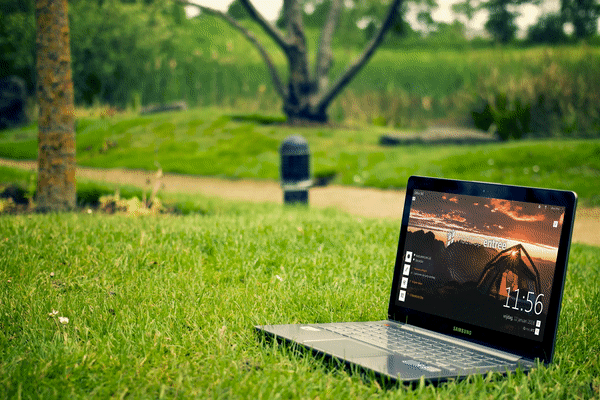 Meetroo entree, a productivity hub installed in SharePoint to discover and navigate through content. Entree 2.0 is part of the modern work space, a desktop, that is the perfect starting point from where you can navigate to everything you need during the day (or night) to get your work done. A calm user interface packed with information. The design of entree is inspired on mobile operating systems such as tablets and smart phones; simple, intuitive ànd a portal to whatever and whomever you wish to reach in the outside world. Entree has 3 screens; home, feed and the hub. 
Visit this and other support articles anytime by clicking the 🎧symbol in the upper right of home in the application. You can also find links to these support articles by typing the subject of your question in the search bar in the hub. 
Branding: The company logo can be added to the application to fit the organisational brand identity. Additionally the background and text/tile colours can be adapted to match the style and colours of the organisation. On the right the local time and weather are shown.
Home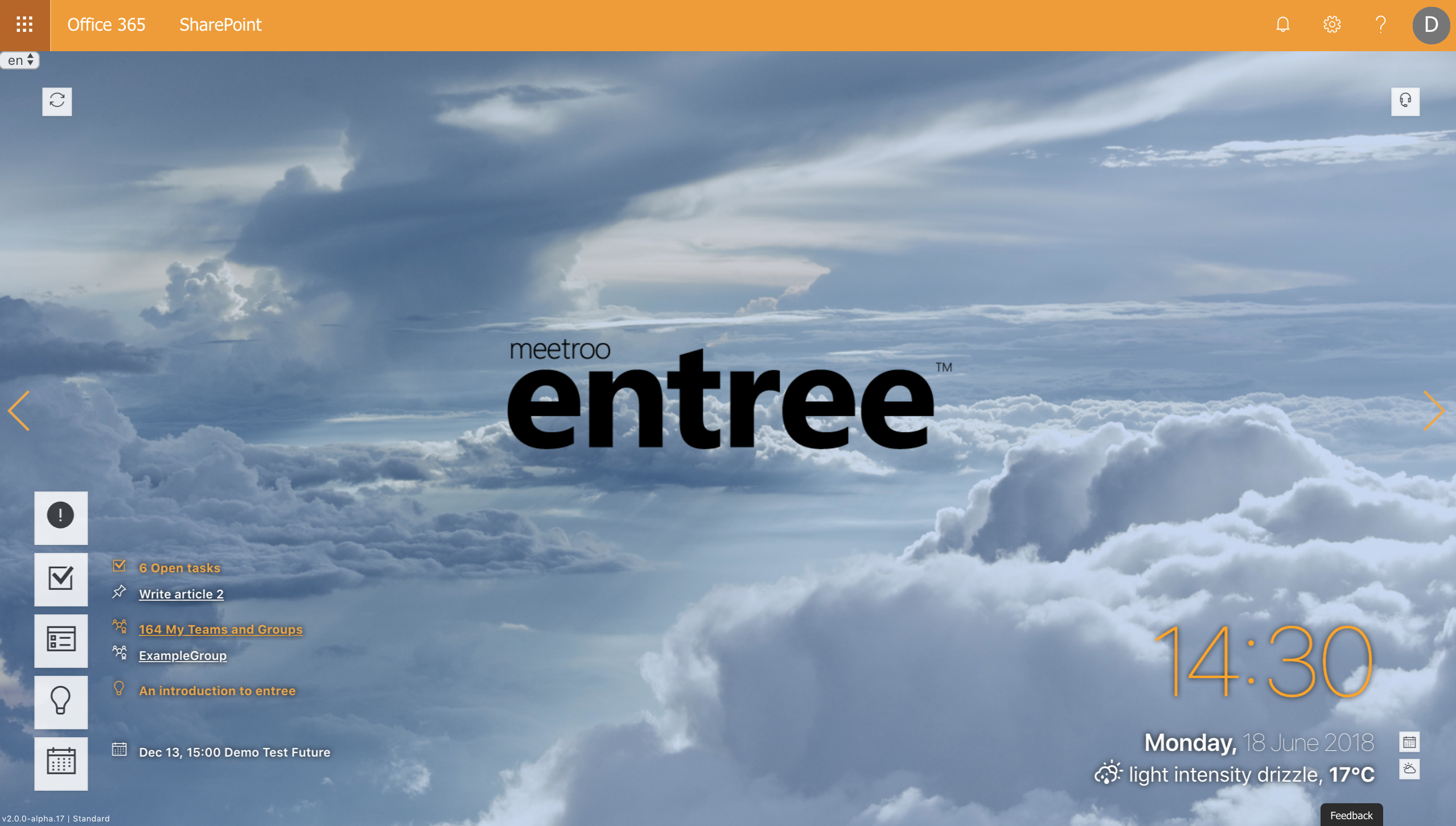 A calm starting point with a dashboard that shows important updates at a glimpse. In standard these can be tailored to the specific needs of your organisation:
Dashboard: widgets and components give personal as well as company specific information. On the right of the screen the time and weather is shown via components. On the left up to 5 widgets can be shown. Widgets aggregate data from SharePoint, which can be accessed through clickable links and tiles. The current widgets are:

Alerts: quickly notify the organisation of important situations. For instance the early closing of the building, or to ask special attention for an enquiry you wish the colleagues to fill in.
Tasks: an overview of the open SharePoint tasks.
Tips: A 'tip of the day' that offers a tip to make better use of Office365 and entree. This can be expanded with company specific tricks, fi informing colleagues of the right way to reserve holidays, or a new company tool.
Colleagues: a tool to share organisational growth birthdays. 
Company Calendar: inform all employees at once of upcoming events, or for special departments.
Teams and groups: an overview of the Office 363 teams and groups you are part, with the one that was last active highlighted.
Feed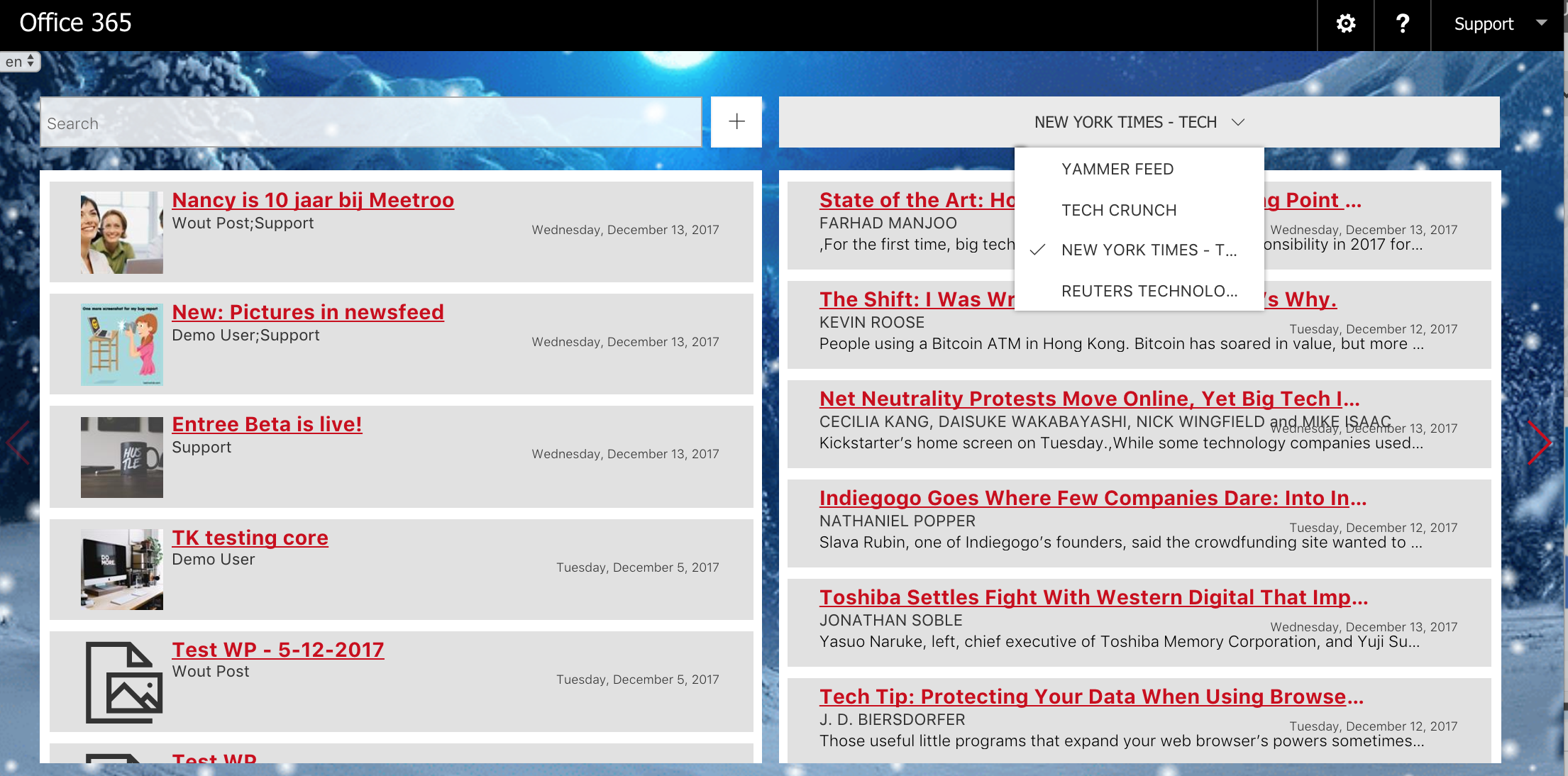 An overview of internal and external news as well as social feeds relevant to your organisation/job. There are three feed types:
Internal news: the feed page automatically grabs all communication sites of the SharePoint environment and displays these here. The feed can be filtered by subject/source (communication site, team or group, etc).
Social feed: this shows your personal yammer feed. In standard this can be adjusted to feed from a specific source. In due time this will be expanded by other social media.
RSS: in standard additional sources can be added that fits the organisational needs. For instance an RSS feed of the company news messages as shared on the external company website. Or the RSS feed of sector specific websites, partners, etc.
Hub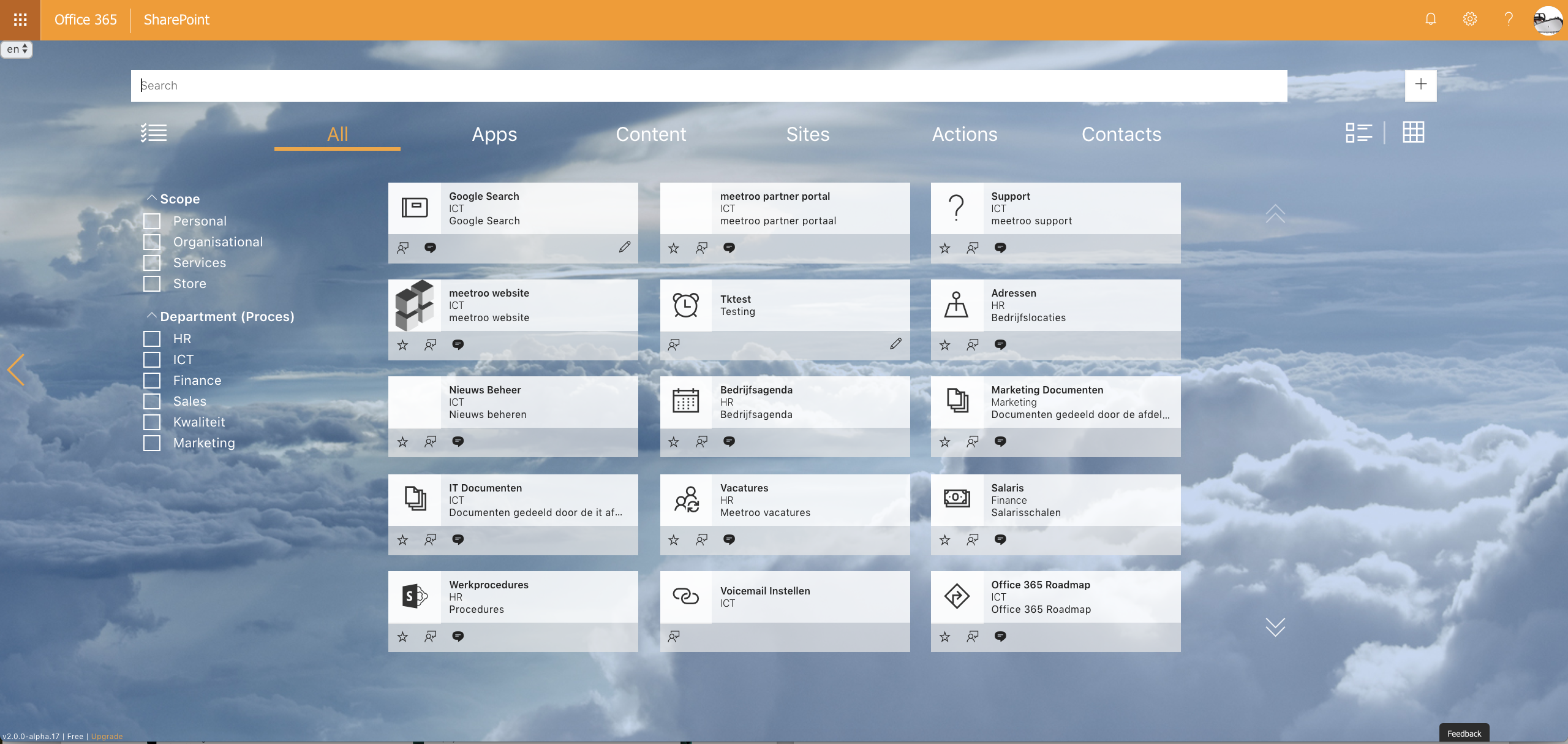 A content hub to save and initiate content. The portal to all the document/files, folders, applications, people and organisations you need access to to execute your daily job. All within max 3 clicks. Start typing in the search bar to find the item you need, make use of the tabs (apps, content, sites, etc) and filters to narrow your search. Add your own personal or organisational links to the hub too.
Use the hub to search for/through:
Bookmarking personal links: as an employee one can add links to often used documents, sites, applications, etc.
Bookmarking organisational links: links that can be of interest for the entire department/organisation can be added as organisational links. For instance links to the HR information, payroll, external datasources.
SharePoint site and people: the hub searches to all sites and profiles in the SharePoint/Office 365  environment.
Link Collections: collections that can be tuned on that offer links to well known applications such as MS Word, MS Excel within Office 365, but also links to jumpstart actions withing MS Dynamics, Jira, SalesForce, and more.  
extra datasources: feel free to add personal data sources to make date more accessible, such as a client data or a product assortment.  
Experience the benefits of our improved entree 2.0 (beta) yourself. And, if you like the experience, feel free to share the joy with friends and colleagues. All users that install entree 2.0 during this period, will receive a users licence for life. A small gift from us to you.
---